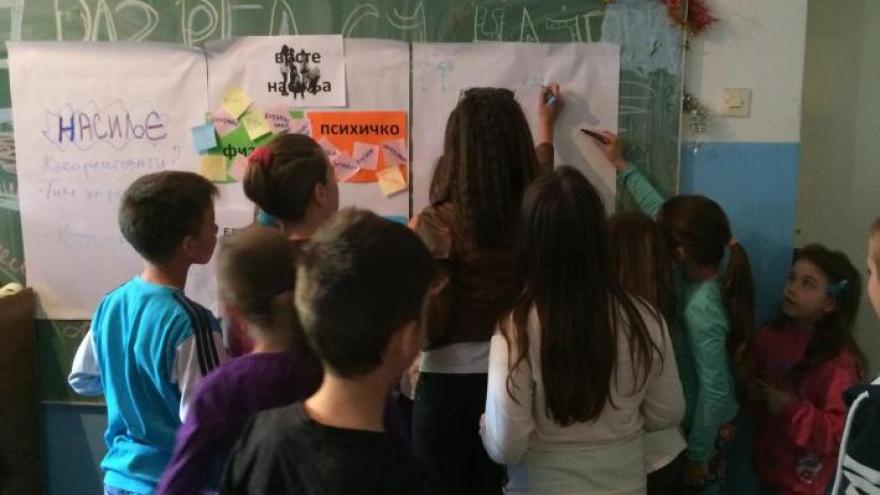 Since 2008, NDI has implemented a series of programs in Kosovo to strengthen the political participation of young women and men. The program monitoring and evaluation associated with these efforts concluded that the programs have helped change the level and frequency of youth participation. In part, this can be attributed to increases in youth agency and an enabling environment to support their active, meaningful engagement, which aligns with NDI's unified theory of change for youth political participation programs. In February 2017, NDI conducted a substantive, field-based study of this work to gain a better understanding of how it has evolved and achieved results. The study uncovered several lessons and related program features that explain the process of simultaneously developing agency and an enabling environment, and how the two dimensions combine to help drive sustained youth participation.
To conduct the study, NDI's DC-based Program Officer for Youth Participation traveled to Kosovo and held semi-structured interviews with seven NDI staff who manage and implement youth programs, 29 current and former participants (including 13 young women and 16 young men), and two representatives of partner organizations involved in NDI's work. Through the interviews, the program officer gathered information on how NDI involved youth in the design, management and evaluation of programs. The program officer also explored the experiences of youth in the programs, including their motivations for joining, whether and how it has affected their ability to meaningfully participate in political processes, and perceptions of the value of NDI's work and how it has influenced practices of youth political participation in Kosovo.
Description of Kosovo Youth Programs:
Since declaring independence in 2008, Kosovo has struggled with a range of social, political and economic challenges, including government corruption, unemployment, poverty, and limited and unequal education opportunities. Young women and men under 30, who make up more than half of the country's population, are disproportionately affected by many of these issues; nearly 70 per cent of youth are unemployed, and many lack access to education. The country's minority ethnic Serb communities - and youth from those communities, in particular - face deeper challenges, including those related to the settlement of Kosovo's status with Serbia, which impede the delivery of services necessary to support their growth and development.
Despite these challenges, young people have the potential to spearhead positive change. NDI public opinion research over the past several years has shown that young people under 30 are the most vested in building opportunities for a peaceful and prosperous future, and are more optimistic about Kosovo's future than older generations. While many youth are eager to become involved in political efforts to improve the welfare of their communities and society, they struggle to effectively organize themselves, gain the respect of elders and attain meaningful roles in political decision making. These struggles result from sociocultural and institutional barriers to youth political participation, including stereotypes that youth are lazy, apathetic and incompetent, and the lack of meaningful opportunities for youth to learn about or get involved in civic and political life. Ethnic Serb and other minority youth are particularly marginalized and lack community support for participation in political processes relative to the majority ethnic Albanian population.
NDI has worked with diverse young women and men since 2008 to become more politically organized and active and to channel their energy, ideas and aspirations into political processes. Through a series of programs, an approach built on issue-based organizing and direct action has emerged as an effective means for engaging youth in Kosovo and improving their political participation. Each of these programs is briefly described below.
Through the New Media School, NDI has assisted young activists and leaders in carrying out advocacy campaigns using social media communication tools. Through three cohorts of the program, 60 young women and men who are active in political parties and civil society organizations have worked together to lead campaigns addressing a variety of local- and national-level issues, from preservation of historical sites to improving treatment of stray dogs to increasing gender equality in local and national assemblies.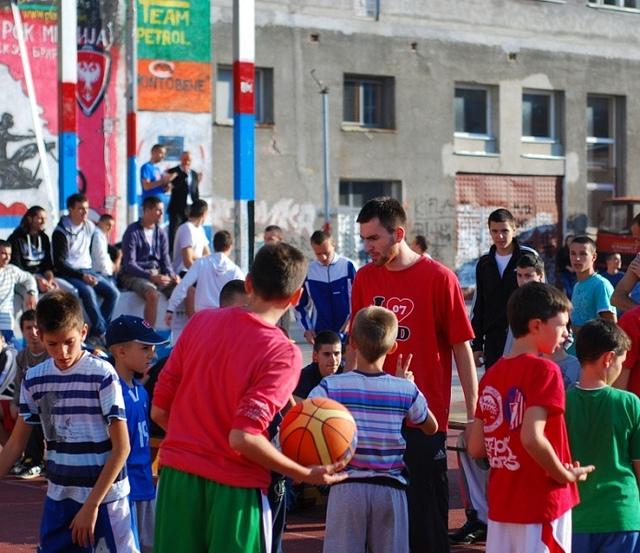 NDI's inter-ethnic advocacy and leadership programs have provided a forum for ethnic Serb and Albanian youth to build cross-ethnic relationships, political leadership and advocacy skills and experience taking political action toward common goals, contributing to a politically active and skilled generation that is more willing and able to collaborate across ethnic lines. This work has taken place in different communities around the country, with a focus on the northern Serb-majority and ethnically mixed municipalities, which have historically been a flashpoint for inter-ethnic conflict. Through these programs, hundreds of young ethnically diverse women and men have collaborated on campaigns addressing shared interests, including the environment, traffic safety, sexual and reproductive health, and government transparency and accountability.
Through the Youth Leadership Program (YLP), NDI has worked separately with ethnic Serb youth to connect over unique issues in their communities, better understand how to navigate local decision making processes, and engage other citizens and local elected leaders to build norms of government accountability, responsiveness and citizen participation. During elections held in 2010 and 2013, NDI provided assistance to ethnic Serb and other minority youth to campaign for public office, 15 of whom were elected to local and national positions.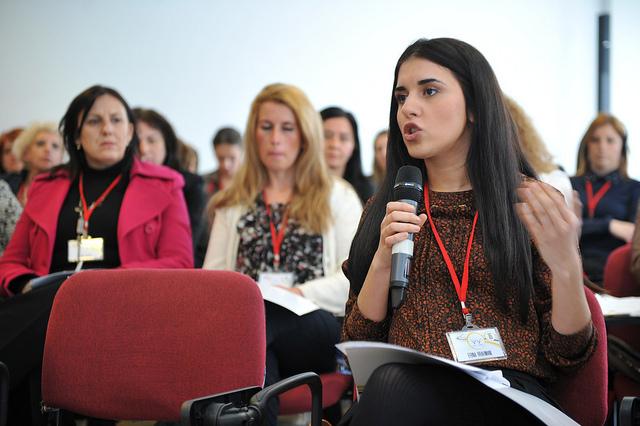 NDI's annual Week of Women (WoW) and Women's Leadership Academy (WLA) have brought together Kosovar women from political parties, civil society, business, the media and academia every year since 2012 to build networks and develop skills to become more effective leaders in their fields. Although WoW consists of a week of learning and networking opportunities for women from different fields, WLA has engaged small groups of the most committed WoW participants each year in an intensive training program to hone political leadership skills and implement advocacy campaigns. Many young women have participated in WoW and WLA each year, including participants from other NDI youth programs described above, as an opportunity to build networks of mutual support with their peers. WLA participants have led campaigns on a variety of issues, from improving regulation of public schools to gender equality in inheritance and property rights.
Analysis through the Unified Theory of Change
This section summarizes how NDI's work in Kosovo exemplifies ways to address the different elements within the theory of change in order to shape new political practices surrounding youth participation. The descriptions are supplemented with feature boxes containing quotes from interviews conducted during this study, as well as supporting examples from NDI's programs.
"As a result of NDI's program, I developed the confidence that, despite my young age, I can have a role in politics." -NDI program beneficiary
As a result of NDI's assistance, diverse young people have reported and demonstrated improved willingness and ability to participate in politics - or agency - both individually and collectively. These changes in agency can be attributed to strengthened assets through interactive learning and experience taking collective political action.
NDI has tailored its programs to meet youth where they are, recognizing their different needs and starting points based on levels of experience, ethnicity, gender and location. The inter-ethnic programs have provided an opportunity for young people - many of whom have never met someone from another ethnic community - to build cross-ethnic relationships and understanding. For ethnic minority youth who are not comfortable working in a multi-ethnic program, the YLP has provided a forum to build basic political skills and confidence while working in communities that may be inaccessible or dangerous for youth from other ethnic groups. Similarly, most of NDI's programs are mixed gender, but WoW and WLA have provided separate opportunities for women to build networks, skills and experience separately from young men.
Young women and men have played a central role on the program team, contributing to all aspects of program design, planning, management and evaluation. Young team members have helped ensure that the program meets the needs of young people and have been key for establishing trusting relationships between the program and participants. The team often gathers feedback on the program from young participants and adjusts the curriculum and program delivery practices to respond to youth needs and interests. During the study of this program, young women reported that seeing young women NDI staff members encouraged them to join and fully engage in the program. Ethnic Serb participants also reported that seeing staff members from their ethnic community on NDI's program team encouraged their participation. NDI has set out and enforced ground rules during activities to ensure respectful communication and interaction between young women and men, and different ethnic groups. In inter-ethnic settings, NDI has provided interpretation between Albanian and Serbian so that all youth could participate equally.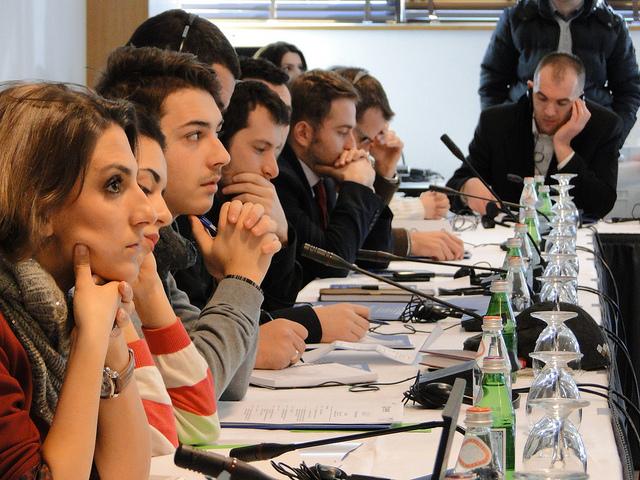 Through NDI's programs, Kosovar youth have strengthened assets that have contributed to their more effective and sustained participation in politics, including knowledge, technical skills, and "soft skills". In discussions with NDI, youth reported gaining a better understanding of democracy, political processes, and the structure of Kosovo's government. They also described that learning skills related to policy advocacy, conducting research, policy debates, and media communication (including online and traditional media), among others, have continued to be particularly useful in their political activism outside of NDI's programs. Participants also said that the experience of learning, engaging with peers and taking political action built their soft skills, including an improved sense of self-efficacy, critical thinking abilities, goal orientation, and interpersonal skills. Youth in inter-ethnic programs reported building empathy for other ethnic communities, which is consistent with post-program surveys that have signaled improved understanding between youth from different ethnic groups.
Although some of the practical skills and knowledge have been initially introduced through classroom workshops, participants report that they further practiced and internalized these abilities through collective political action. Learning-by-doing has been the methodological approach of these programs. NDI has worked with youth to discuss and select issues or causes they view as priorities at local and national levels, and then supported them in forming groups, including inter-ethnic and mixed gender groups, to execute campaigns to address the self-selected issues. During interviews with NDI, youth described being motivated by the opportunity to take action to directly affect change on an issue they view as important. By engaging with political leaders and institutions that previously seemed out of reach, and raising their public visibility as community leaders, many youth expressed a feeling of empowerment. In cases where youth-led campaigns have managed to achieve tangible policy changes, youth reported to NDI building a particular sense of confidence, motivation, and dedication to remain politically active.
NDI has guided youth in expanding their participation across political entry points by playing a variety of roles, entering different political spaces, and engaging a variety of political actors. To support youth-led campaigns, NDI has utilized its extensive political networks to help youth engage local and national government agencies, elected officials, political party leaders, and other power holders. Youth from different political parties have been able to work together and develop networks with youth from civil society groups, and vice versa. Some youth have engaged in multiple programs and thereby played multiple roles, including as grassroots advocates, online activists, and community volunteers. As described above, NDI has also assisted some youth in campaigning for public office. Through these efforts, youth have built their confidence and experience, and demonstrated to communities that they are able and willing to play multiple political roles.
"Many youth have been able to use their work with NDI as a starting point to gain more experience and exposure to leaders within their political parties, which then allowed them to build high-level relationships, demonstrate their abilities and advance to higher positions in the party" -NDI/Kosovo team member
Over nearly 10 years, NDI's work in Kosovo has contributed to building an enabling environment for youth participation. Programs have created spaces for diverse young women and men to interact and build relationships with power holders, including political, government, and other community leaders at the local and national levels. These relationships have provided avenues for youth to demonstrate their competence and value. Youth have leveraged and strengthened these intergenerational relationships by collaborating with power holders to address shared interests.
In addition to adapting assistance to accommodate different skill levels and needs among different youth, NDI has recognized and sought to address structural inequities and barriers that often place young women and ethnic minorities at a disadvantage compared to other youth. NDI has encouraged these youth to counter negative norms and stigmas that further exclude them by demonstrating the positive influence they can have as leaders in their communities. In interviews with NDI, some young women reported that, as a result of taking public leadership roles and demonstrating their ability to propose solutions to complex public issues, they gained credibility and respect within their communities. NDI has remained cognizant of the risk of intimidation or threats to young women who become publicly active, and regularly monitored program activities to mitigate tensions or challenges to young women in their activism.
NDI's assistance for ethnic minority communities has addressed the unique challenges they face at both the local and national levels. Most ethnic minority communities - and ethnic Serbs in Northern Kosovo, in particular - live in homogeneous communities with complex governance challenges due to the ongoing process of transitioning these areas from Serbian to Kosovar government control. These complexities hamper the delivery of public services and make it particularly difficult to identify and engage political decision makers; for example, in many cases, informal community leaders hold power over local decisions instead of formally elected leaders. NDI has drawn on its political expertise and the knowledge of local staff to help ethnic Serb youth navigate these complex and often dysfunctional local institutions through advocacy work. Further, beyond the local level, many ethnic minority youth have never traveled outside of their communities or had any contact with Kosovo's national institutions. NDI has provided opportunities, including small group meetings and study trips, for ethnic minority youth to visit Kosovo's capital, Pristina, to familiarize themselves with the central government and interact with national ethnic minority and majority political leaders.
Creating Space for Youth/Power Holder Interaction
NDI worked with youth to organize a roundtable event with political and government leaders as part of an inter-ethnic advocacy campaign to improve access to internships for university students. As a result of the relationships established during the roundtable, the youth began to work with the Ministry of Labor and a university in Pristina to establish a new program to provide internships to all students.
NDI has created spaces for youth to interact and build relationships with power holders, including small group meetings with individual leaders and roundtable policy discussions with multiple leaders. For example, to support the efforts of youth-led issue advocacy campaigns, NDI has organized roundtable events for youth to seek the support of local and national level leaders from political parties, government, members of parliament (MPs), and local elected officials. These events have taken place at the local, regional and national levels, and have generally focused on addressing a community need. During these events, young women and men have constructively voiced their concerns regarding a particular issue, presented research they conducted, and proposed policy solutions. These interactions have allowed youth to establish initial relationships with power holders that serve as avenues for accessing and attempting to influence decision-making processes. It is important to note that NDI has often been able to create this space due to its strong relationships with top officials and its high level of credibility in Kosovo.
NDI has supported young people in Kosovo to continue to reach out to and engage power holders through the above-described roundtable discussions, one on one meetings, and other forms of engagement. Through this contact, young women and men have demonstrated their ability to effectively organize themselves, comprehend and propose solutions to complex public policy issues, and their commitment to improving the welfare of their communities. In interviews with NDI, young people reported that these interactions have contributed to establishing a greater value among power holders and community members for youth participation, as they have come to see young people as competent and able to make valuable contributions to political deliberations and decisions. These leaders have made commitments to advance issues raised by youth-led advocacy groups, and in some cases they have gone on to take action, such as initiating further discussion on the issue in Parliament or enacting new policies.
In these cases, leaders have begun to look past participants' young ages to view them as equally capable citizens and leaders. This has particularly been the case when youth have been able to build specific skill sets that are in demand by leaders within their organizations. For example, several New Media School graduates have been given ownership of political party communications due to their newly developed skills in social media communication, graphic design, and media relations.
Establishing Value for Youth Participation
A young woman who participated in NDI's inter-ethnic leadership and advocacy program used the experience as a springboard to build her career in politics. Through the program, she led an innovative campaign alongside other youth from her small Northern Kosovo town of Vushtrri to improve traffic safety near schools and provide work opportunities for single mothers, which they identified as priority issues in their town. The local mayor was impressed by her leadership ability, and asked her to work on his campaign for reelection in 2013. After winning the election, the mayor appointed her as Director of the local Department of Youth, Culture and Sport. In her interactions with community members through her role in the local government, citizens have been impressed by her work and expressed a desire to see more skilled, energetic youth in public leadership.
To supplement these youth-led efforts and further contribute to establishing value for youth participation, NDI has often shared public opinion research with political party leaders that reveals youth perceptions of their parties and policies that youth care about. Since young people make up the majority of Kosovo's population and a significant proportion of the voting population, this has provided incentives for party leaders to make more concerted efforts to become more responsive to and inclusive of young people. This has encouraged leaders to place young women and men in prominent positions within their parties, appoint them to Ministerial posts, and include them on party lists during elections.
NDI has provided technical assistance and mentorship to youth in leveraging their relationships with power holders to strengthen intergenerational collaboration. By continuing to engage with power holders to address issues of common interest, youth have continued to strengthen relationships of mutual understanding, trust and respect. In turn, this has led to more consistent opportunities for youth to play meaningful roles in policy discussions and decisions. Young people who have been involved in NDI programs and subsequently been elected to public office or advanced within their agencies or political parties have also served as champions and mentors for other youth. This has been particularly valuable for ethnic Serbs and other minority youth in Northern Kosovo. NDI has often engaged these young elected leaders to support youth-led campaigns.
Engaging Young Leaders as Mentors
Fifteen ethnic minority youth in NDI's programs were elected to local and national leadership positions during the 2010 and 2013 Kosovo elections. NDI has continued to involve these elected leaders in program activities, through such activities as study visits to the Kosovo Assembly for ethnic Serb youth. With a history of war and repression by the state, the opportunity to see their community members in public leadership positions opens their mind to their potential role in political leadership. Recognizing the importance of these relationships, an NDI-supported group in the municipality of Leposavic is managing a program to support communication opportunities between central level Kosovo leadership and citizens in northern municipalities. This initiative has provided valuable opportunities for ethnic minority youth to learn about political developments, such as the pending establishment of the Association of Serb Municipalities, which is part an ongoing process to normalize relations between Serbia and Kosovo.
Youth who are active at the grassroots level have also proven their ability to serve as mentors for other young people within their communities. For example, through inter-ethnic advocacy initiatives implemented with support from NDI, groups of 15-20 youth have managed to engage hundreds of other young people - including youth under 18 - in campaign activities like public awareness raising events and public meetings with local leaders. In interviews with NDI, participants reported that other youth have jumped at the chance to plug into an opportunity to make a positive contribution to their communities. New Media School campaigns have had a similar effect, activating more young people who are idle, unemployed and eager to become active and make a difference. When young community members have seen the successes their peers are achieving without financial support or high level family political connections, they have begun to believe that they, too, can play a role as agents of change. As another form of intergenerational collaboration, these infectious efforts have been a positive way to inspire the next generation of young activists and leaders.
Conclusion: Progress toward more Youth-Inclusive Politics
Improvements in youth agency and the enabling environment for youth participation have contributed over time to establishing political practices among some power holders that are more inclusive of young people. As young women and men have built their agency and strategically engaged power holders through collective, organized political action, they have begun to establish a greater value among many political leaders for the value of youth participation. These relationships have allowed youth to collaborate with power holders on a range of public decisions, from gaining protected status from the Ministry of Environment for two historical nature sites to allocation of municipal government funds for the establishment of animal shelters.
It is important to note that increased instances of collaboration between youth and individual or small groups of power holders does not necessarily signify systemic change regarding youth political inclusion. These leaders who have become more supportive of youth participation are still constrained by their own competing political priorities and those of their organizations and parties. Further, "double" discrimination against young women, ethnic minorities and other marginalized communities remain among many leaders, placing them at a greater disadvantage compared to other youth. However, despite these additional challenges, NDI has seen young women and ethnic minorities advance to publicly elected leadership positions, suggesting incremental changes.
The gradual changes described above suggest that continued efforts by the current and future youth generations to demonstrate their commitment, competence and contributions can continue to erode sociocultural and institutional barriers to the participation of diverse youth, and ultimately establish norms of youth political participation.