The Imperative of Youth Development and Participation
There are 3.5 billion people under the age of 30 living in the world today, comprising the largest young population in history. Ninety percent of youth live in developing countries. This unprecedentedly large generation makes up more than half of the global population, and more than 70 percent of the population in many countries where NDI works.
Today's youth are disproportionately affected by some of the world's toughest development challenges, including unemployment, environmental degradation, violent conflict, poor physical, social and emotional health, insufficient access to education, and displacement. Young women are often further disadvantaged in many of these areas due to discriminatory sociocultural norms that do not afford them the same rights as men and prevent their full participation in public space. Different youth have varying development opportunities and challenges based on individual characteristics, including disability, sexual orientation, gender identity, ethnicity, religion, and other identities and circumstances that affect their lived experiences.
Despite these challenges associated with the oft-cited "youth bulge", today's youth represent a critical opportunity for global development and progress. Young people can contribute unique aspirations, energy, and ideas to develop more stable, democratic and prosperous societies. The vitality of youth participation is recognized in multiple international agreements, including United Nations Security Council Resolution 2250 on Youth, Peace and Security, and the Inter-Parliamentary Union's Resolution on Youth Participation in Democracy. If diverse youth are enriched with education, health, employment and civic and political engagement opportunities, they can be a demographic dividend that accelerates development across all sectors. If young people are not recognized as trusted agents of change and do not receive proper support, there is a risk that they will become disaffected and apathetic, which would harm potential gains from other development investments. Therefore, in order for youth to fulfill their potential and jumpstart global development, governments and political leaders need to engage young women and men purposefully and meaningfully as partners so they can invest their creativity, ideas and aspirations into building more prosperous futures for themselves, their societies and their nations.
This imperative is recognized by positive youth development (PYD), which is a philosophy and approach to youth development that has been used in the United States for more than 20 years and is increasingly being applied internationally. PYD recognizes the value that youth can bring to development, and therefore engages them as partners rather than recipients of aid. PYD approaches focus on empowering youth with the proper support at the individual, community and national levels, including skills, competencies, and healthy relationships and environments, that allow them to reach their full potential.
Changing Tide of Youth Activism and Leadership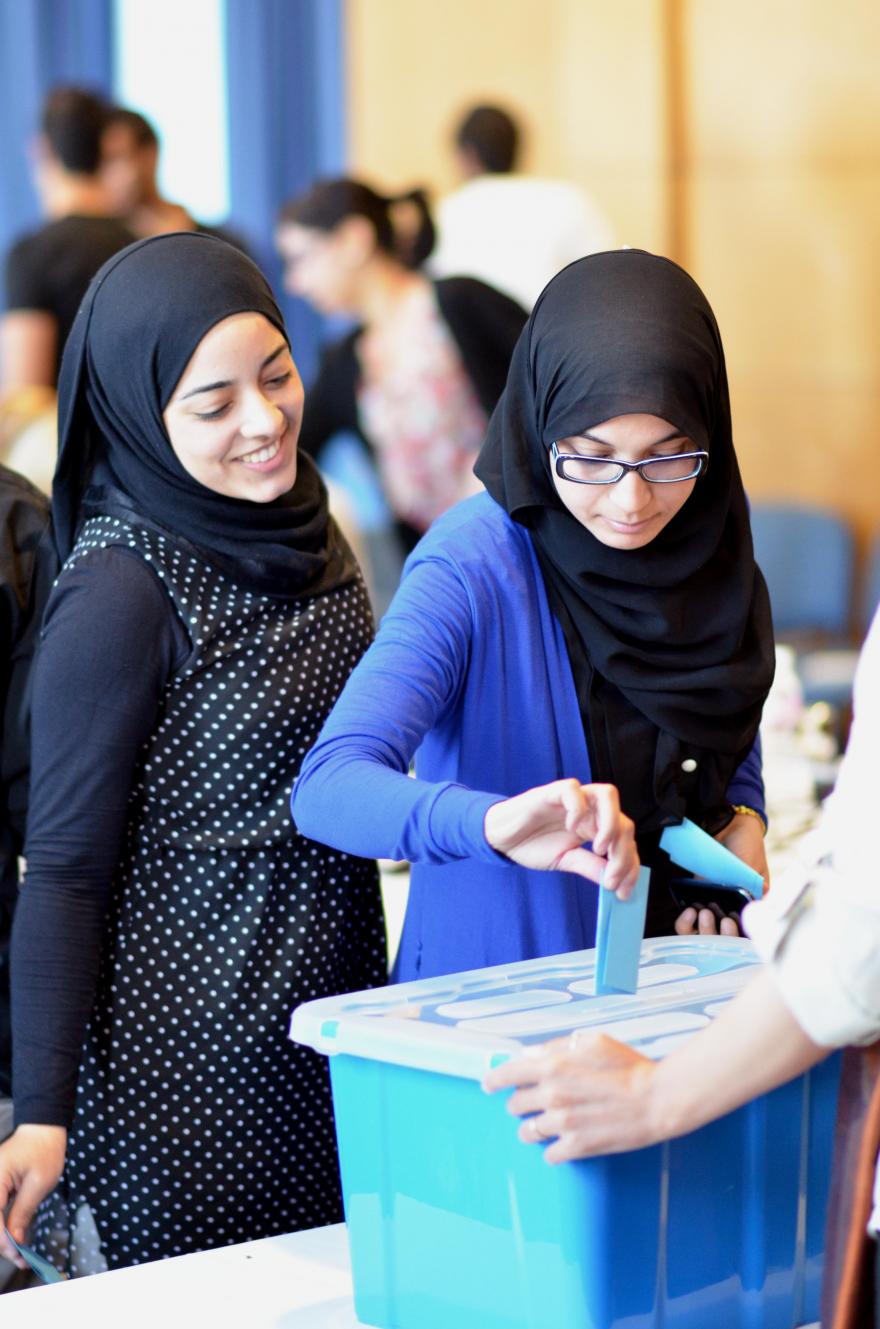 NDI has found young women and men eager to get involved in public decisions to improve the welfare of their societies. Despite these ambitions, they often struggle against barriers, including sociocultural norms and institutional practices, that prevent them from influencing mainstream politics and decision making. Entrenched political elites are often reluctant to share power with youth, whom they may see as inexperienced, apathetic, unable to lead or a threat to their own power. Young women are commonly perceived as further incapable of political participation due to discriminatory gender norms. Although some political leaders visibly include young women and men, by offering them limited representation within political organizations and institutions, these spaces usually fail to provide youth with sufficient meaning or influence.
As a result of these barriers, young people have few avenues or opportunities to learn about civic and political life, engage in political discourse or access circles of power. Youth are therefore discouraged from building important knowledge, skills and confidence for political activism and leadership, which hinders their willingness and ability - or agency - to take political action to shape their societies. This lack of support and agency causes many young women and men to become frustrated with formal political institutions, which they view as unrepresentative and unresponsive.
Dissatisfied with vertical political structures that seem out of reach and out of touch, young activists are persevering and finding new ways to express their views and improve their communities. Instead of actively participating in elections, joining political parties or supporting government-sponsored initiatives, youth are turning to individualized forms of activism, such as consumer activism, protest art, volunteering or sporadic support for transnational campaigns on global issues, to more directly impact issues they care about. As a result of globalization, the rise of technology and mass media, many youth are connecting through online platforms, both locally and internationally, to discuss challenges they face and plan direct actions to address them. This has resulted in the rise of diverse local, national and international youth-led networks and movements that are loosely organized but closely tied to common interests.
These changes are resulting in new forums for exchange, inspiration, activism and positive disruption. But they are also contributing to a growing rift between youth and formal political institutions. Today's youth need real opportunities to participate in political decision making to help drive innovation and find practical solutions to a growing and complex array of human development challenges. Providing these opportunities is necessary to foster youth belonging and citizenship to "opt in" to the state. This means that youth need the technical know-how, confidence and opportunities to effectively engage political institutions, but also that governments need to find innovative ways to improve their functioning, transparency and accountability to meet young women and men where they are and provide space for them to partner in advancing development.
In international development, "youth" is defined differently based on the type of development assistance and the sociocultural context where it is delivered. Definitions of youth depend on perceptions of when someone is seen as an adult and independent from the family, which can vary significantly by context. For example, most United Nations entities define youth as young women and men between 15 and 24 years of age, but expand that range to as high as 35 depending on local definitions of youth and national policy directives. USAID targets youth between 10 and 29. Both of these agencies extend their upward age limit to 35 for political participation work, since age-related exclusion in this area usually reaches beyond 24 years and eligibility for local and national elected positions typically begins at 25 years or higher.
NDI generally works with young women and men between the ages of 18-30, but adapts this range to fit different country contexts. NDI recognizes that the diverse youth population comprises equal numbers of women and men, and includes lesbian, gay, bisexual, transgender and intersex (LGBTI) youth, youth with disabilities, ethnic and religious minority youth and other marginalized communities.