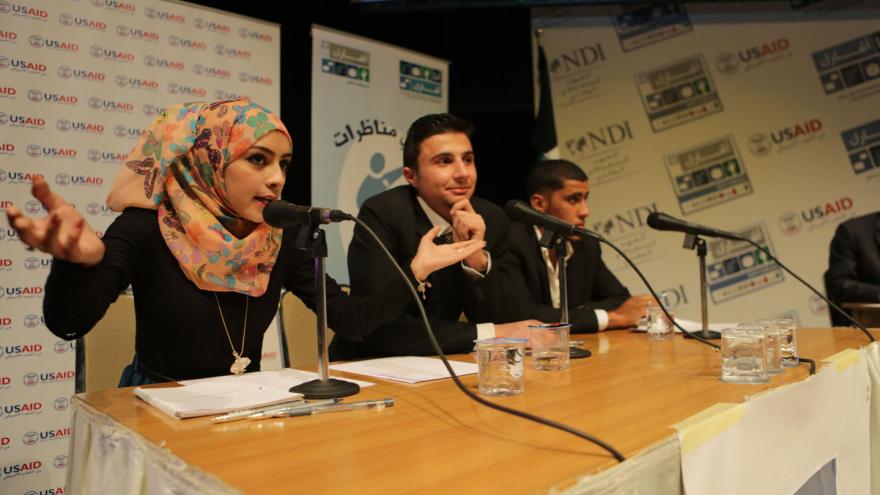 Since 2012, NDI has implemented a two-phased program in Jordan to strengthen youth political participation. In partnership with 28 universities, the program has provided students with civic education (phase 1) and technical assistance in taking organized political action (phase 2). According to standard monitoring and evaluation reports, the program has resulted in improved levels and frequency of political participation among youth involved. In part, this can be attributed to increases in youth agency and gradual progress in the development of an enabling environment for their active, meaningful engagement, which aligns with NDI's unified theory of change for youth political participation programs. In February 2017, NDI conducted a substantive review of the program to gain a better understanding of how it has achieved these results. The study uncovered several lessons and related program features that explain the process of simultaneously developing agency and an enabling environment, and how the two dimensions combine to help drive sustained youth participation.
To conduct the study, NDI's DC-based Program Officer for Youth Participation traveled to Jordan and held semi-structured interviews with program staff, 19 current and former participants (including 11 women), and representatives of universities where the program operates. Staff included the NDI's Resident Country Director in Jordan, the Program Manager, five Amman-based program staff, and nine regional and local coordinators responsible for implementing the program across Jordan. University representatives included one Dean of Student Affairs and one Vice Dean of Student Affairs from their respective universities, who have been involved in the program from its outset. Through the interviews, the program officer gathered information on how NDI involved youth in the design, management and evaluation of programs. The program officer also explored the experiences of youth in the programs, including their motivations for joining, whether and how it has affected their ability to meaningfully participate in political processes, and perceptions of the value of NDI's work and how it has influenced practices of youth political participation in Jordan. In discussions with university representatives, the program officer gathered their perspectives on how the program has impacted students. The program officer also observed activities at four universities.
Description of Jordan program
Young Jordanian men and women, who make up more than 70 percent of the country's population, have had few opportunities to engage in politics and public decision making. This stems, in part, from sociocultural norms and perceptions that identify youth as irresponsible and lacking the life experience required to participate in serious deliberations. This is reflected in the formal education system, which has not traditionally informed young people about political processes or encouraged their active participation. Likewise, educational practices focus on rote memorization and repetition and the system often discourages individual analysis, which can undermine youth confidence in sharing their own ideas and opinions. Moreover, there have been no mechanisms for young people to learn how public decisions are made, what their rights are as citizens, and where and how they can access political processes. Young women face additional barriers to political participation due to sociocultural norms that have discouraged women from being assertive and playing leadership roles.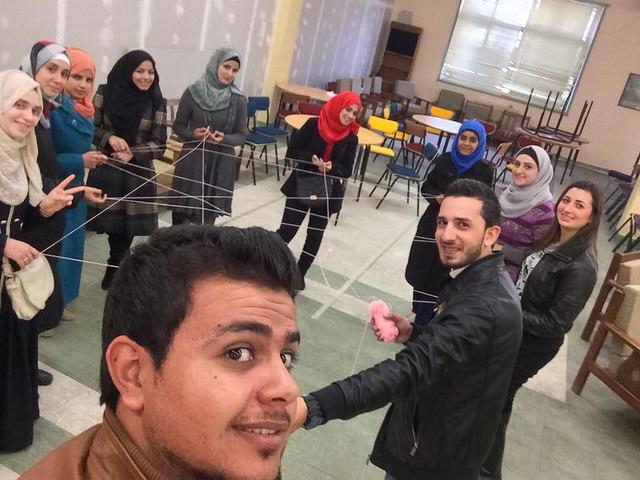 To help better position young people as active citizens and to open Jordan's political processes to their participation, NDI has partnered with 28 Jordanian universities and the Ministry of Education to implement a two-phased program with university students across the country. Since 2010, more than 20,000 young women and men have completed the first phase of the program, called "Ana Usharek" ("I participate"), which is a semester-long, extracurricular series of educational discussions on democracy, human rights and citizenship. More than 2,000 youth have completed the second phase, Usharek+, through which NDI has worked more intensively with a select group of Ana Usharek graduates over an academic year to organize issue-based campaigns, participate in a national debate competition and hold policy dialogues with political leaders. Although this review contains some analysis and lessons from Ana Usharek, it focuses mainly on Usharek+ due to its support for organized political activism, which has contributed to both youth agency and the supportive environment for their participation. Participant evaluation surveys show that Ana Usharek has had a positive effect on individual knowledge, skills and attitudes, but its confinement to classroom learning limited its contributions to creating a more supportive environment for youth political participation outside of the university campus.
Typically, Ana Usharek graduates have been selected to move on to Usharek+ based on their: level of participation in the preceding discussions; expressed interest in solving a problem in their communities; willingness to lead a change effort; and ability to commit the time and energy. Usharek+ participants have carried out more than 55 campaigns to address a variety of public issues, including improving accessibility for people with disabilities on university campuses, improving local-level transportation services and infrastructure, and protecting freedom of speech. Participants have also engaged in dialogue with peers and political leaders on social, political and economic issues through regional and national debate competitions that are aired on television and radio. NDI has facilitated opportunities for Usharek+ participants to meet local and national political leaders, including Members of Parliament, senior government officials and others, through regional dialogues to discuss solutions to contemporary policy issues. Usharek+ youth have also participated in intensive "Winter and Summer Schools of Politics", where they have built additional skill sets to support their political participation, such as media relations techniques or skills related to campaigning for public office.
Analysis through the Unified Theory of Change:
This section summarizes how NDI's Jordan program exemplifies ways to address the different elements within the theory of change in order to shape new political practices surrounding youth participation. The descriptions are supplemented with feature boxes containing quotes from interviews conducted during this study, as well as supporting examples from the program.
"Every person has power. This program teaches young people how to use their power in a positive way." -NDI program beneficiary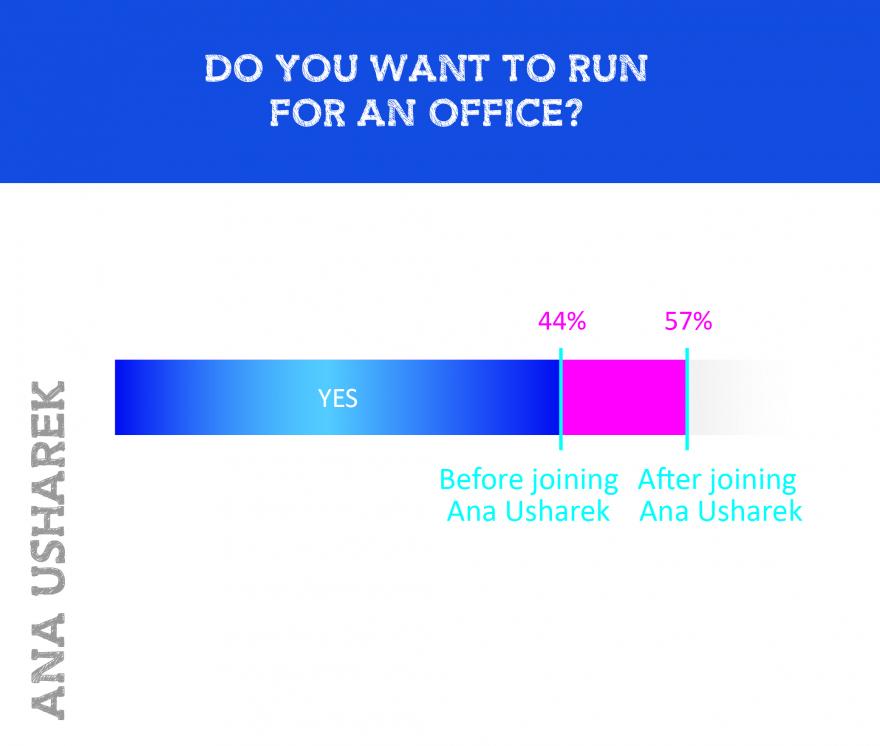 After completing NDI's program, young people have reported and demonstrated improved willingness and ability to participate in politics - or agency - both individually and collectively. Participant evaluation surveys have shown that Ana Usharek and Usharek+ graduates have improved knowledge of democratic processes, increased interest to participate in politics, and a more positive perception about the role they can play in shaping their communities. In interviews with NDI during this study, current and former participants, including women and men, described that the program has transformed the way they perceive politics, with growing confidence in their ability to play an active role. In a survey following the 2013-2014 program year, 96 percent of program graduates said that they intended to remain politically active. In interviews with NDI, participants described having a greater interest in voting or engaging in discussions with peers and family about politics as a result of the program.
NDI tailored the program to meet youth where they are, by elevating youth voice in program design, planning and management. The program has been led by young Jordanians, including staff who have worked in the Amman office, local coordinators stationed at universities, and regional coordinators who have been responsible for overseeing program implementation in four regions where the program has operated. Many team members have been graduates from the program themselves at the universities where they have been stationed. Local coordinators at each university have been responsible for recruiting and managing relationships with participants, including participant recruitment and facilitation of discussion and training sessions. These coordinators are given substantial freedom in tailoring training content and methodologies to their own strengths and the needs and interests of youth at their assigned universities. Regional coordinators have attended Ana Usharek sessions to provide mentorship and support for local coordinators, and have coordinated with NDI staff in Amman to guide program planning, implementation, monitoring and evaluation. Amman-based staff, as well as local and regional coordinators, have been given regular opportunities to reflect and provide feedback on the program design and delivery, including regular team meetings and annual reflection and planning sessions. Having young people leading the program has not only helped tailor the program to the interests of youth, but also encouraged youth engagement in the program. In interviews with NDI during this study, participants expressed being inspired by the confidence and leadership capability of youth on the program team, which encouraged them to join and fully engage in the program.
Young women have generally been eager to participate in the program alongside young men, and have comprised more than half of program participants. The program staff have described this as a result of the program's setting at universities, where most youth have been elite and had more progressive views regarding gender equality compared to much of the population, where gender inequality and discrimination would prevent women from getting involved in political matters or participating in a program alongside men. To address potential hesitation by young women to participate in the program, NDI has included at least one young woman coordinator at most universities where the program opreates. While facilitating discussion sessions and workshops, local coordinators have also encouraged women to speak up and for young women and men participants to collaborate during discussions and group work.
"The Ana Usharek program is designed to place young Jordanians in a learning environment that encourages them to speak out, think critically, and form their own opinions through discussions with their peers." -NDI/Jordan team member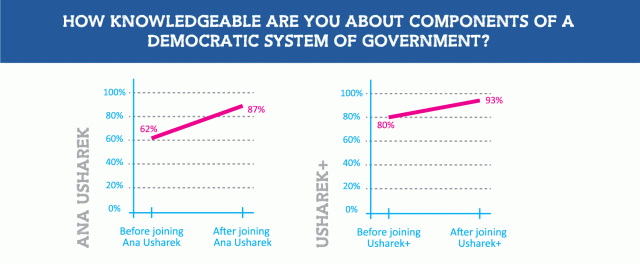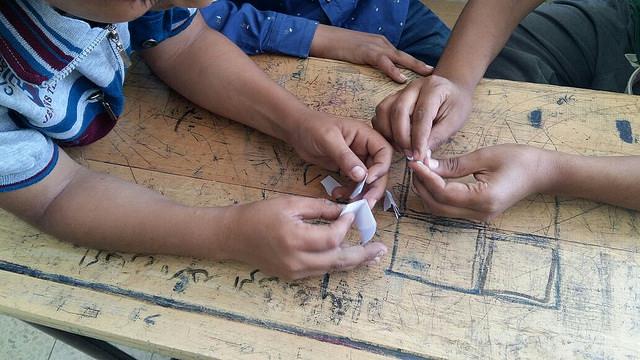 Ana Usharek and Usharek+ have strengthened assets among young men and women that have contributed to improving their participation in politics and public life, including knowledge of democratic concepts and processes, technical skills, and "soft skills". Through educational discussion sessions and the practice of taking organized political action, youth learned about democratic concepts, the structure of their government and the different components of the political cycle. In interviews with NDI, current and former participants described that learning about how political institutions function through Ana Usharek and Usharek+ helped shed light on processes that they previously saw as opaque and inaccessible, which left them feeling encouraged to continue their involvement in politics and public life. Participants also described to NDI that they built valuable technical skills related to policy advocacy, policy analysis, research, media relations and debates. Participants also reported that the experience of learning and working alongside others in the classroom, as well as through campaigns, policy dialogues, and debates, have resulted in improved soft skills, including critical thinking, interpersonal skills, communication, goal orientation and self-efficacy.
Learning-by-doing has been the methodological approach for Usharek+, through which NDI has assisted youth in leading collective action through issue-based campaigns at the local and national levels. With guidance from NDI, youth have joined forces based on shared interest in an issue, and collaboratively planned and implemented campaigns. In interviews with NDI, participants described being motivated to engage politically by the opportunity to take action to directly address an issue they view as important. In several cases, this motivation led youth to continue working on their campaigns beyond the end of the program.
Through Usharek+, NDI has guided youth in expanding their participation across political entry points by engaging a variety of political actors and playing different roles. In addition to their campaigns, which have brought them in contact with a variety of local and national power holders, youth have interacted with elected leaders, civil society leaders, and other activists through the policy dialogues and debate competitions. Leading up to and during the 2015 parliamentary elections, NDI supported youth in taking on new political roles, including volunteering on candidates' campaigns, raising awareness of the elections through social media campaigns, advocating for candidates to prioritize issues important to youth, observing the elections process, and leading voter education activities. Through these additional opportunities to build skills and take part in other activities around the elections, youth have been able to raise their public profiles and demonstrate their ability and interest to play multiple political roles.
"Students who complete the Ana Usharek program demonstrate a completely different way of thinking about society, with a more disciplined desire to play a publicly active role. They also demonstrate improved abilities to engage constructively with others". -University Dean of Student Affairs
To a lesser extent than youth agency, the Jordan program has contributed to developing an enabling environment for youth political participation. Through the various program activities, youth have engaged power holders and built relationships that have allowed them to influence some local-level decisions. In cases where youth have worked on campaigns to address national level issues, they have had some success in gaining supporters within parliament who have made efforts to advance issues highlighted by youth. Through their campaigns, as well as policy dialogues and debate competitions, young people have made an impression on power holders as competent activists and leaders who can understand complex policy issues and propose solutions. These efforts have led to some new opportunities for youth to participate in policy deliberations and voice their opinions to power holders.
Through the Jordan program, NDI has created space for young women and men to interact with power holders. As described above, youth have engaged university instructors, deans, local and national political leaders and other power holders through their campaigns and policy dialogues. Through these spaces, youth have established initial relationships with power holders.
In designing and implementing the Jordan program, NDI has recognized and made efforts to mitigate structural inequities that present a deeper set of challenges to the political participation of young women, who are further underrepresented in political leadership and public life than young men. The Ana Usharek curriculum includes discussions about the importance of gender equality in democratic societies. The program has had a positive influence in this regard on participants, as post-program participant surveys show that program graduates have more positive views regarding gender equality, and that women who complete the program have demonstrated improved confidence and desire to engage in public life. Further, program staff and participants reported to NDI that, through Usharek+, the heightened visibility of young women in televised debate competitions has provided an example to demonstrate to the public and power holders that young women are equally competent and able to play valuable roles in politics. Although structural gender inequities remain outside of NDI's program and university campuses, the heightened public visibility of young women through Usharek+ may have contributed more discussions about the role of women in politics and public life.
Building on these initial relationships, NDI assists youth in continuing to reach out to power holders to demonstrate their competence and commitment to having a positive impact on their community, in order to establish a greater value for youth participation. In meetings with political leaders as part of their campaigns, youth take a lead role in engaging leaders during the meetings by discussing the issue at hand and constructively proposing solutions. According to NDI staff and participants, this has helped to demonstrate the ability of youth to understand complex policy issues and play a valuable role in addressing them. Youth have also been at center stage in debates and regional forums. The performance of youth in these activities has made an impression on political leaders, establishing that many youth are committed and able to play meaningful roles as political activists and leaders.
Leveraging relationships youth have built with power holders, NDI has assisted participants in strengthening intergenerational collaboration. Through their campaigns, youth have worked with university administrators and local level political leaders to achieve positive, concrete outcomes, such as refining university curricula, improving local transportation services for university students, and addressing local infrastructure and traffic safety issues. Youth who have led campaigns on national level issues, such as combating gender based violence and child labor, or lowering the minimum legal age to run for public office, have also managed to gain support from members of parliament and other decision makers who have influence over the issue at hand. For example, some members of parliament have initiated discussions in plenary sessions and committee meetings to address issues elevated by youth-led campaigns. Although the solutions to these issues are complex, youth have reported to NDI having a sense of empowerment that they were able to gain some level of response from high-level political leaders and initiate a step forward to addressing an issue they care about.
Conclusions: Progress toward more Youth-Inclusive Politics
"Although the change is slow-moving, our work through Usharek+ is contributing to greater appreciation and respect among leaders and citizens for youth political participation." -NDI program beneficiary
The review of the Jordan program has suggested that improvements in youth agency and an enabling environment for youth political participation have had a positive influence on practices of youth political participation in Jordan. The effects on youth agency are more clear, as many youth have both expressed and demonstrated improved assets for political participation and a willingness to remain sustainably engaged in politics and public life. Not all program graduates have devoted themselves to full-time careers in politics, but in interviews with NDI, many described a greater commitment to following political developments, engaging in policy discussions with friends and family, and voting. Several graduates also described being more likely to devote time occasionally to volunteering on campaigns or other sporadic political engagements as a result of NDI's program.
Changes in the enabling environment are more limited. Youth have managed to work effectively with power holders to achieve public policy changes and facilitate high level policy discussions, even in the national parliament. However, these relationships with individual power holders have not yet translated to "writ large" changes in institutional practices of political participation. Outside of NDI's program, youth largely remain marginalized from political decision making, and no new, formalized avenues for youth participation have been created. It is important to note that discussions with Usharek+ staff have revealed that the setting of the program at universities poses advantages and disadvantages to the wider impact of the program. The advantage is that universities are well-respected institutions within Jordanian society, which has helped provide access to high level public officials during the program for the purpose of advancing youth-led campaigns and involving power holders in policy dialogues and debates. A disadvantage is that communities and public leaders may have seen youth efforts through the program as simply part of their university studies, which staff believe may have limited the translation of these efforts to more systematic changes regarding youth participation.
However, the results achieved by this program are significant given that Jordan previously had very little organized youth participation. The outcomes described above suggest that the program has begun chipping away at the sociocultural and institutional barriers that exclude youth from politics. More systematic change will likely require longer-term efforts beyond a five year program.